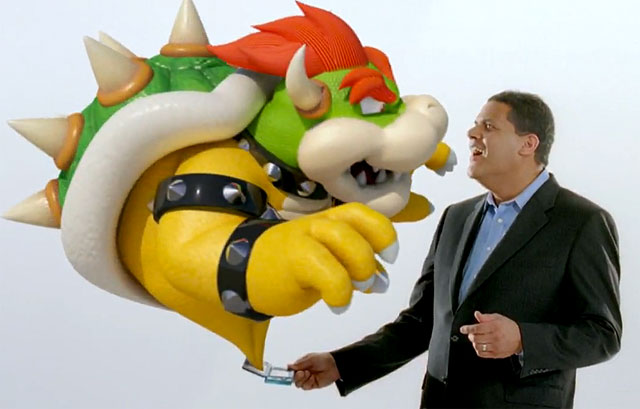 From the story:
If you surveyed the video game industry just after E3 2010, you'd think stereoscopic 3D had finally reached a tipping point and was on the cusp of becoming a new gaming standard. Sony made everyone attending its E3 press conference that year wear 3D glasses to check out big-screen trailers for titles like Killzone 3 and Gran Turismo 5, Nintendo unleashed an army of booth babes at its own press conference to show off the glasses-free 3D of its Nintendo 3DS for the first time, and NVIDIA continued to push its all-in-one 3D Vision system, launched the year before.
Looking back today, it's hard to tell what all the fuss was about. While stereoscopic 3D is definitely present in today's gaming landscape, it has decidedly failed to become the revolutionary, must-have feature that seemed to warrant so much industry attention just a couple of years ago.
Reader, let us take an adventure through Nintendo's head:
Due to being a fan of anime and how special effects in movies are done (especially Star Wars), Nintendo looked to how to apply video game special effects to make the 'anime culture' of Japan even more popular (this occurred after the NES and SNES when it was sure that video games were here to stay).
More 2d Mario after Super Mario Brothers 4? That is backwards thinking! Therefore, let us farm out the 2d games to an outside company named Rare while we all focus on getting the 3d revolution going. If video games do 3d, it would be bigger than Star Wars. Combine that 3d with Japan's anime culture, and Japan's anime culture would be the most popular thing in the world.
The year is 1995. Nintendo releases the Virtual Boy. It is a massive flop. Gunpei Yokoi, who pursued it based on the 3d advocation coming from Shigeru Miyamoto, was run out of the company. Nintendo ultimately blamed the failure of the Virtual Boy on the marketing. You see, people really truly want stereoscopic 3d. Even have all games in red. And single player. But those incompentent marketers couldn't sell the thing. It was all their fault!
The year is 1996. The Nintendo 64 is launched with Mario 64 and Waverace 64. Third parties leaving the N64 didn't matter because of the 'OMG 3d revolution' would be enough. The N64 sold strongly only in North America at first until even then it got outsold by the PlayStation.
While the N64 got soundly outsold by the PlayStation, could this be due to the emphasis on 3d? "Both had 3d," Nintendo would say. "Sony's marketing was very effective. And they had third parties." While that is true, but that doesn't explain what happened to the SNES customers. Why didn't Mario 64 sell like a 2d Mario? Why didn't fans of Mario all buy Mario 64? "It is because," Nintendo says, "we didn't make the game accessible enough."
The year is 2001. Nintendo launches the Gamecube. Nintendo fans are disappointed that Nintendo injected Japanese anime culture into Zelda resulting in the Wind Waker look. More 3d Mario comes out with Super Mario Sunshine. Sales of the Gamecube drop even lower. Does this have anything to do with the emphasis of 3d? "No," says Nintendo. "It has everything to do of how unfocused our studios are. Games like Super Mario Sunshine were rushed." Yamauchi steps down. Iwata becomes president.
The year is 2006. Seeing the downward trend with the game consoles, Nintendo tries something different because more of the same won't cut it. The Wii uses motion controls. "Instead of focusing on 3d output, we are focusing on 3d input." The Wii is an enormous success. Nintendo concludes this is due to 'offering surprise' and getting the 3d right this time.
Super Mario Galaxy is designed to make 3d Mario accessible to everyone. It doesn't sell like Nintendo thought. Super Mario Galaxy 2 is made complete with tutorial DVDs and it doesn't sell like Nintendo thought. NSMB Wii comes out, and Nintendo did not have high expectations for the game. They thought the game would sell well, but that it would not move hardware. It cleaned out the hardware stock for Nintendo. Nintendo is shocked by the 2d Mario sales.
Does that mean people don't want 3d? "No," says Nintendo. "2d Mario is accessible. 3d Mario is not."
The year is 2011. Nintendo launches the 3DS because 'now is the time for 3d'. Miyamoto is all excited that finally a 3d Mario game can be made where the display outputs in 3d. 3d Mario will finally be accessible. And a 3d Mario was designed with the 2d Mario elements in it. Mario in 3d Land starts out selling strongly but doesn't continue the momentum.
"Japan starts all gaming trends," Nintendo says (even though Japan didn't invent game consoles or has anything to do with PC gaming). "What will occur in the West will happen two years after Japan. On the clock." Two years later, 3DS is going nowhere in the West.
It is now the year 2012. The 3DS seeks to revive itself with trying to replicate 2006 where the DS Lite came out with NSMB DS (in this case, it is the 3DS XL and Super Mario Land 5). The Wii U's flagship launch game is Super Mario Brothers 6.
As someone who lived through the SNES period, you have to laugh at these events. Nintendo swore never to make another 2d game in the middle of the 16-bit generation because '3d was the future'. Now in 2012, no matter what is done with 3d it only sells a tepid amount but the 2d has the most consistent sales performance.
Aside from the financial investment into 3d, there is so much emotional and time investment into 3d. Shigeru Miyamoto bet his career on 3d.
Here is the tragedy. While Nintendo was focusing so much on 3d, which was the wrong trend, other game companies focused on the Internet, which was the right trend. The Internet changed how we used computers, not 3d. Some console companies have used their investment into the Internet as a successful leveraging tool to get consumers to buy third party games on their platform (Microsoft). One FPS company has used the Internet to create a digital platform (Valve with Steam). A tiny SNES third party company has risen to Goliath proportions all due to the Internet (Blizzard).
Where is Nintendo in all this? "Now is the time for 3d!" When the subject turns to the Internet, the only story that is written about Nintendo is 'when is Nintendo going to get with the times?'
The Internet has far more value and revolutionary changes to video games than 3d ever could. We've already seen these changes. And now many players can't imagine video games without their Internet capabilities.
Whether or not Nintendo's shift away from 3d is just a feint or the true deal, it is time to celebrate reader!
Above: Malstrom feels like celebrating!