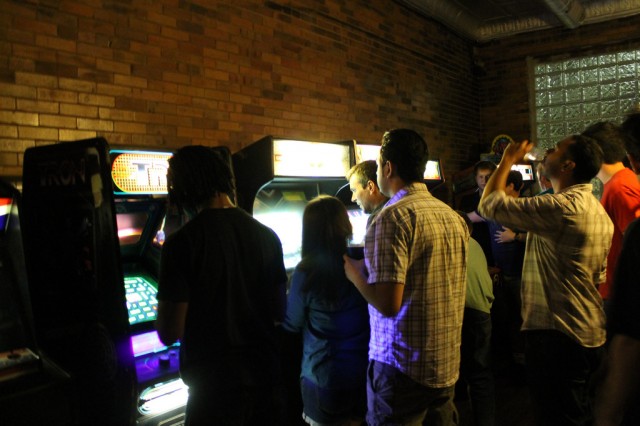 Above: People play arcade games while drinking adult beverages, socializing, and being outside. This is not the place for the hardcore gamer.
Here is a fun story: the stealth rebirth of the American arcade. Go read it, reader.
The most surprising thing in the story may be how these arcade owners are saying "Arcade games are not enough. You need something else. Something like a bar."
"See, Malstrom! See!" spits out our friend, the Hardcore Gamer. "Arcades aren't really alive if they need bars and to be social hang-outs."
The definition of a hardcore gamer is someone who believes the purpose of video games leads to more video games. Normal people believe the purpose of video games leads to socializing, leads to blowing off steam after a hard day's work, leads to socializing with people outside the house, leads to hanging out and having a beer, or leads to hanging out with friends and family. Video games have never been meant to be an end to themselves.
The arcades died mostly due to the hardcore gamers. They took over the arcades and the game industry began to cater to them (because they were the 'best customers'). The result was arcade games only selling to the 'better' gamers and 'not those filthy casuals' which resulted in the arcades' implosion. What made the arcades popular were games like Pac-Man (designed to attract women). Arcades did not get popular with 'more intense evolutions of Street Fighter 2′. For proof of this, the arcades now are used as an insult to someone who has no life. "Where are you going for your honeymoon, nerdboy? The arcade!? Bahahaha." Arcades increased in stigma. But arcades did not have that stigma before. What changed? It was the arcades going 'hardcore'. This stigma also attached itself to the 'hardcore' game consoles.
I've always said that the reason why the Wii succeeded was getting back in touch with arcade gaming. What does that mean? Wii's gaming wasn't meant to be an end to itself. You played Wii Sports during family gatherings or any social gatherings. It wasn't so much that the Wii was fun but that the Wii made other things more fun (like family gatherings). And that is the true job of the video game.
My definitive experience of video games is playing an arcade machine (maybe Donkey Kong) with a cigar in my mouth and an alcoholic beverage sitting near me. This is why I have to laugh when people talked about 'mature gaming' which included guts and gore or 'dark themes'. What is more adult than playing a video game, in public, with an alcoholic beverage and smoking a cigar? Oh, and HOT WOMEN being around you while you did this? Mature video games can be played in a bar. Pac-Man can be played in a bar. Wii Sports can be played in a bar. Halo cannot be played in a bar because everyone will make fun of you. They will think, "This guy takes video games sooo seriously. That is the sign of a wasted life."
Assuming it is true that American arcades are coming back, this could be a response to the downturn in the economy. The rise of the arcades occurred during stagflation. Arcades were 'cheap fun'.
But the rise of the arcades, if true, also points to a Second Golden Age for game consoles. The NES should not have been released in the United States because every focus group test and analyst and every other measurement said not to do it. But Yamauchi's son-in-law did so anyway for one reason: the activity in the arcades.
Nintendo should start making arcade games again. How about a four player 2d Mario for the arcades? How about a four player Mario Brothers? How about a Gauntlet-like experience with 4 players playing a game like Classic Zelda? That would be sweet!