Hello Malstrom.



You know, I've been thinking, there's a Mario game that does show us some more content from the mushroom Kingdom, that game is Super Mario RPG, they could use many of the ares of that game and expand upon them. I guess the issue of introducing new worlds is that they have to make coherence within the greater scope of Mario's universe, that's why Galaxy didn't make much sense because it was basically an excuse to try a bunch of new stuff, and since they were in space they could try out whatever they came up with, but the result is that the game world itself is not coherent. Mario RPG introduced many new areas to the world of the mushroom Kingdom and they don't feel out of place. A mine/cave world would not be out of place, I know that NSMB kinda did one, but that one wasn't interesting, I believe Mine world would very well work. Whatever happened to Vanilla Dome? that was an interesting area.



Maybe besides introducing new areas they should expand on what hasn't been expanded upon. Ghost World as suggested sounds interesting.



You know what Donkey Kong Country 2 did very well? It introduced completely new areas compared to the first game, the content is so fresh, and they seemingly integrated them with coherence. They were able to somehow put on a single island: swamps, lava places, amusement parks, enchanted woods and castles among other things. DKC 1 also does it very well, somehow they were able to put in factories on a tropical island and they don't feel out of place. However Mario I feel is kind of harder to make that, considering its universe is so well established by now.



Anyways, just wanted to add my two cents to this.

Another vote for an 'Underground' World with the mine/cave. But I agree with the Vanilla Dome theme. It was underground yet it didn't match the traditional fantasy cliche of an underground world (dwarfs, brown, lava). Vanilla Dome was very bright, almost like a Jewel World.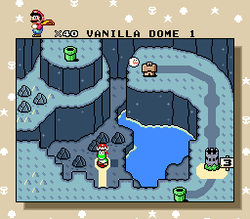 Above: Vanilla Dome was mysterious but never dark like in the 'lava and brimstone' way.
The Vanilla Dome theme also made a big impression.

Above: Ten minutes of it because I know the reader wants it!