Hello Mr. Malstrom.  I've got some great ideas and WAYS to make great ideas.
I'll start off with the latter.  One fantasy series I absolutely loved when I played (had to stop because it is a money pit and screws over casual users) was Magic The Gathering.  Even when I stopped I still payed attention to the new content that was being released.  This series ALWAYS had new content.  Jesus christ these people NEVER run out.  I'm serious.  When I last dabbled in it again was about 2 years ago and they made heavy use of a "hybrid" theme.  In the game there are many worlds and a plot device caused a sort of earthquake which began merging these worlds in weird ways which screwed up the ecosystems of their environments.  So water places merged with fire places and swamp places merged with ice places and so on.  The developers of these Mario games have trouble breaking new ground with content.  Here is a great idea for them to start with what they know.  They should make a couple hybrid worlds:
1.  Giant/Tiny World:  Not one or the other, but BOTH.  And surprise surprise, this was used in Mario 64 already so no excuse not to feel it is too progressive.  Have stages with both types of enemies and maybe the level constantly changes each time he enters a pipe.  Just don't make it a puzzle device like was used in Mario 64
2.  Lava/Ice World:  Again, already used in Mario Galaxy so it won't freak out the developers sense of comfort.  And ice world should feel dangerous like in SMB3.  Even more dangerous will be that you have to watch out for lava as well, not just lack of traction.  Maybe fire enemies end up melting ice off platforms and ice enemies freeze lava.  Pick your poison as you decide whether of not to kill certain enemies.  This adds replay value to the world because you play it differently each time depending on your creative method
3.  Pirate/Swamp World:  Okay so the premise for this world is a flying battleship that fell in a Swamp world.  Pirate ship is not new to Mario considering Mario RPG (very memorable section) and swamp world has been used before as well.  It could be really muggy underwater levels with battle ship segments in the way that have cannon blasters where some function and some don't.  Could even have some ghost enemies.  Ghostly swamp world reminds of that dark world from DKC2 in fact.
Really hybrids can be used with anything while still being conservative about your choices.
As far as ideas of my own, I really only draw from other fantasy games I've played, including other Mario ones (the Mario universe is HUGE if you include ALL the mario games) but I can only think now of one good original world for Mario that hasn't been prominent.
1.  Poker/Casino type world:  This ALWAYS works well with bad guys.  It should be a sly world with a very classy feel to it with lots of tricks and traps (Sonic stages, James Bond, F-ZeroGX stages, Booster's Tower).  Bad guys love casinos.  Bowser's Casino world should be a raucous.  Also, the shy guys would be perfectly cast for this kind of theme if you really feel my intuition on this one.  Make it very flashy and club like, like Moonside from Earthbound or the way end of the credits from Super Mario RPG where it is lit up at night
Nintendo has come up with a few original worlds on occasion and I'd like to point them out since they could be reused if done well.  Choco World was great as it was a mountain world made out of chocolate.  The Vanilla Dome was also  very nice and could be done again as well.  Also in Yoshi's island they somehow managed to use a lot of different cave type world akin to Vanilla dome while still somehow seeming fresh and non-redundant.  Maybe the art style kept it fresh.  I think the challenge with creating new worlds in Mario is that Mario is sooo much more generic than say Samus or Link or captain Falcon, or Ness, or Sonic, or pretty much EVERY video game character ever.  It is hard to branch out without making it seem like you are stepping out of Mario's already established genericness.  Of course the "new" series isn't helping at all to break that wall down.  All this being said, I don't think Nintendo would dare do a repeat of NSMB2 in terms of content.  They are not that stupid trust me.
Thanks for your time.
I was about to post up the idea of Card World. It is not like a Casino World, obviously.
My impression when I look at my email account full of 'Mario World ideas' is that most people seem to be relying on brain farts. I consider great things to be not unlike a flower. The seed is the unique individual (say Shakespeare). The soil is the research and lifetime experience of that person (in Shakespeare's case, it would be Ovid and his European adventures in the 17th Century). The watering and sunlight would be the actual work done to make that seed turn into a plant and grow (which would be Shakespeare writing the plays).
I do believe there has been a substantial change in game developers. The early game developers who made what we call 'classics' came to game development with an enormous amount of board games and books they have read. All of this provided fertile soil for the games to grow in. Today, it seems like so many game developers (I am generalizing of course) do not read at all. Or if they do read, it is garbage works or their reading practices are confined largely to the Internet (i.e. garbage). So it is no surprise when their plants do not grow strong.
What I mean by 'brain farts' is that it seems like people aren't enriching their own soil but trying to 'think up stuff' (trying to be 'creative', ugh). I don't mean you, emailer, but some of the emails I've been getting seems more like 'top of the head' stuff and not much 'soil' put into it.
Let me use this as an example. Trying to come up with a new Mario World, that is actually good and memorable, isn't easy. But how do we get rich fertile soil? We can look at real world geographies, pop culture (perhaps not that), and literature. Super Mario Brothers has a very strong similarity with Alice in Wonderland. So let's look there.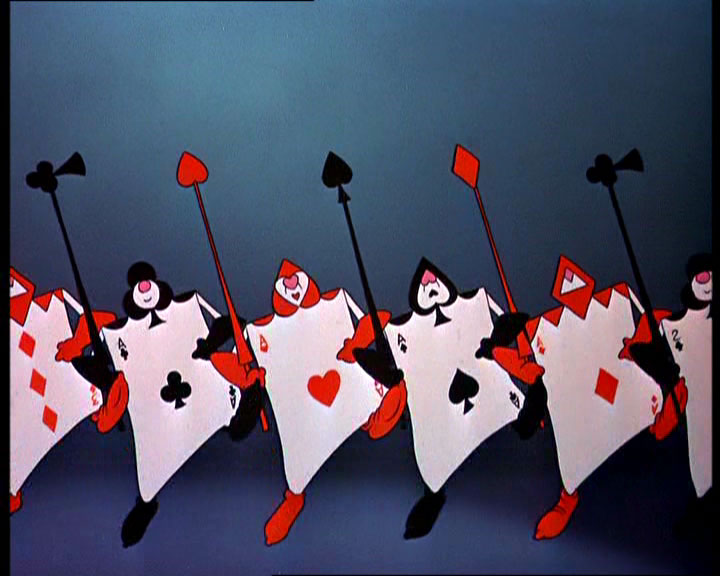 These card soldiers are a very memorable part of Alice in Wonderland. Why not a Card World? Those guys could be a new type of enemy.
Card World would have a very powerful visual theme. It is unique to traditional fantasy. Many gameplay elements can come from it. In Super Mario Brothers 3, Mario did collect cards at the end of each level. He did play card games as well.
Nintendo is a card company, after all. Surely they could use their own history to enrich Card World unlike any other company could and truly make it their own. I think Card World is distinct and unique enough of a theme to appear as a Mario Kart course or in Mario sports games. And it will be memorable because the Alice in Wonderland card characters have been memorable for hundreds of years.
If I want to get more soil, maybe I should read Swift's satires or Arabian Nights? Maybe younger literature from cultures I'm not familiar with. I remember when Zelda 2 came out, mainstream media reviews called it "Nintendo's take on the Sleeping Beauty story…" The better the fertilizer, the better the ideas come.